[Alan and Mary Hobart present an] Exhibition of paintings by Mary Swanzy, 1882-1978 / text by Julian Campbell. - London : Pyms Gallery, 1986. - [92] p. : ill. ; 25 cm.
JULIAN CAMPBELL : Mary Swanzy was born in Dublin in 1882. She studied modelling with sculptor John Hughes in Dublin, then attended summer classes in Paris c. 1906-1907. She glimpsed pictures by Picasso and other modern artists in Gertrude Stein's house. At home she painted portraits, then travelled in the South of France, Czechoslovakia and the South Seas. She settled in London, and continued painting into her nineties.
Swanzy's style varied considerably, from free landscape of Ireland, slightly influenced by Hone, to « fauve » paintings of Samoa, cubist studies and imaginative allegories.
☐ « Onlookers in France » (p. 34), Cork : Crawford Municipal Art Gallery, 1993
COMPLÉMENT BIBLIOGRAPHIQUE
Julian Campbell, « Les Irlandais en Bretagne », in Pont-Aven et ses peintres, à propos d'un centenaire, Rennes : Presses universitaires de Rennes, Institut culturel de Bretagne, 1986
Julian Campbell, « Peintres irlandais en Bretagne, 1880-1930 », Pont-Aven : Musée de Pont-Aven,1999
Julian Campbell, « The Irish impressionists : Irish artists in France and Belgium, 1850-1914 », Dublin : National gallery of Ireland, 1984
Marie Bourke, « The Aran fisherman's drowned child, by Frederick William Burton », Dublin, 1987
Marie Bourke, « The Irish landscape through the eyes of the painter », in Decoding the landscape, Galway, 1994
Denise Ferran, « William John Leech, an Irish painter abroad », Dublin, 1996
Lady Isabella Augusta Gregory, « Hugh Lane's life and achievment », Londres, 1921
Paul Henry, « An Irish portrait », Londres, 1988
S.B. Kennedy, « Irish art and modernism, 1880-1950 », Belfast, 1991
Wanda Ryan-Smolin (et al.), « Irish women artists from the eighteenth century to the present day », Dublin, 1987
J.C. Steward (ed.) « When time began to rant and rage : figurative painting from 20th century Ireland », Londres, 1998
William Butler Yeats, « Quarante-cinq poèmes [suivis de] La Résurrection », Paris, 1993
mise-à-jour : 9 mars 2016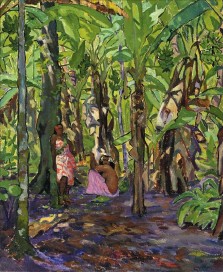 Jeunes filles et bananiers

(Samoa, c. 1924)
source : Invaluable